Barryton Public Library has a new catalog.
Check it out!
https://barrytonlibrary.booksys.net/opac/bpl/
Log On with your library card!
**************************************************************************************
Check out our
Chippewa Branch Library
Located in the Chippewa Township Hall
19171 4th Street
Chippewa Lake, MI 49320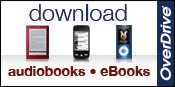 eBooks for Checkout are Now Available!
E-books - The library now offers ebooks for checkout from Overdrive. Click the link above or go to upnorth.lib.overdrive.com to get started. Please visit the library if you're having trouble. We'll help you get started. Downloaded books checkout for two weeks, then automatically disappear from your device - no late fees!
Wi-Fi – Wi-Fi access is already in place at the Chippewa Township Hall, allowing 24 hour internet access to people with laptops, smart phones etc. Just choose Barryton Library at Chippewa from your list of available networks - no passcode is needed.
Computers - 4 computers with speedy Interenet access for public use are available NOW at the Chippewa Township Hall. Give them a try and let us know if you have questions or problems - 989-382-5288.
---
| Return Home | NEW Library Catalog | Library News | Our Services | FAQ Page | Contact Us | Great Links | Board Minutes |